Professor Zhi-Gong Wang
Southeast University, China
Microelectronic Neural Bridges and Electromyographic Bridges for Motor Function Rebuilding of Paralyzed Limbs
Professor Abzetdin Adamov
School of Information Technology & Engineering ADA University, Azerbaijan
Probabilistic Models for Topic Detection, Tracking and Ranking in Conversational Texts
Dr Azlan Mohd Zain
Univeristi Technologi, Malaysia
Current Trends in Soft Computing for Solving Engineering Problems
Associate Professor. Hiro Takahashi, Ph.D
Department of Computer Sciences, DHA SUFFA University
Personal Artificial Intelligence, PAI
Tahir Mehmood Chaudhry
President Pakistan Institute of Entrepreneurship
Turnaround Management and Role of Digitization
Dr. Dil Muhammad Akbar Hussain
Aalborg University, Denmark
Potential of Renewable Energy Solutions for Pakistan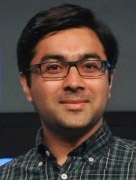 Dr Muhammad Shafique
Vienna University of Technology, Austria
Emerging trends in brain-inspired computing for extreme energy-efficiency & cognitive systems.
Dr Syed Saad Azhar Ali
Universiti Teknologi Petronas, Malaysia
Underwater robotics: challenges & latest trends
Engr. Prof. Dr. Ahmed Shuja Syed
International Islamic University, Pakistan
Device Manufacturing for IOT: Revisiting the Design, Material & Fabrication Matrix
Engr. Dr. Zeeshan Khatri
Mehran University of Engineering and Technology, Pakistan
How can Nanofibers be pointing to the future of Pakistan?
Dr Junaid Qadir
Information Technology University, Lahore
Big Data for Development
Dr Mobeen Movania
HoD Computer Science DHA Suffa University, Karachi
Computer Graphics A domain worth Exploring
Dr Asim Wagan
Dean Muhammad Ali Jinnah University, Karachi
Engineering and Artificial Intelligence
Dr Ghazanfar Monir
HoD Electrical Muhammad Ali Jinnah University, Karachi